Throughout the year, ESERO Ireland and Space Week coordinators – MTU Blackrock Castle Observatory, run a series of Space Career Roadshows in conjunction with Science Foundation Ireland, and third-level partners. These roadshows provide TY, 5th year and 6th year students with an excellent opportunity to engage with space industry professionals so that they can get a taste of the exciting opportunities that a STEM career in Space has to offer.
The Engineers Week Roadshow takes place on Thursday 10th March and the theme will be the James Webb Space Telescope (JWST) which was launched on 25 December 2021 from the Guiana Space Centre in South America, as a collaboration between NASA, the European Space Agency (ESA) and the Canadian Space Agency (CSA).
This event will run online and is free to join. Students will have the opportunity to interact directly with these Space Professionals via breakout rooms. Spaces in these rooms are limited so please register your interest today to be in with the best chance of securing a place for your students.
Speakers:
Dr Niamh Shaw – Emcee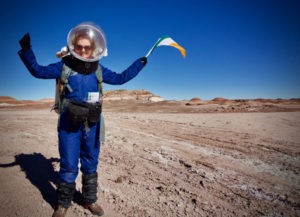 Niamh is a performer, writer & communicator with 2 degrees in engineering & a PhD in science. Passionate about igniting peoples curiosity, she explores crossovers in STEM, art & communication to share the human story of science.
Niamh has set herself a mission to get to space as an artist and citizen. She has created 3 theatre shows, 3 multimedia installations, hit a zero gravity flight, witnessed live launches & landings of astronaut crews, completed over 20 EVA hrs as analogue astronaut at simulated Mars missions, studied & lectured at ISU's Space Studies Programme, created her first RTÉ radio series 'Curious Humans'. She has spoken at events including WIRED Live UK, Space Rocks (ESA), NASA Johnson Space Centre, Inspirefest, New Scientist (UK), at academic & space-related conferences, schools, career events & is a regular contributor to BBC's Sky at Night magazine since 2016. Niamh is also a former Artist in Residence for MTU Blackrock Castle Observatory.
Dr John E Ward – Space Product Manager at Réaltra Space Systems Engineering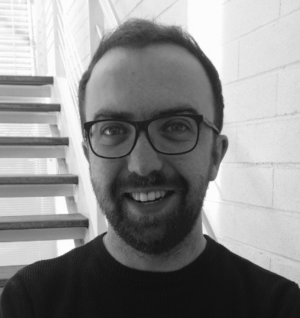 John E Ward is a Space Product Manager at Réaltra Space Systems Engineering, he has a PhD in experimental astrophysics from UCD and has carried out post-doctoral research for over six years working on ground-based gamma-ray telescopes in Arizona and La Palma, as well as cosmic-ray balloon experiments launched from the Swedish Arctic and Antarctica.
After his career in academia, JohnE worked as an applied physicist and business developer at a space start-up in Barcelona Spain which launched two nanosatellites as part of a constellation for Earth Observation, M2M communications, and aircraft tracking.
At Réaltra one of JohnE's main roles is as project manager of the Independent Video Kit (VIKI), a camera system for launchers which recently flew on the Ariane 5 that launched the James Webb Space Telescope. Other roles include senior systems engineer for the ESA PLATO mission, and involvement in R&D projects including wireless communications for launchers and machine-learning applications in space.
He is passionate about growing the space industry in Ireland and supporting young scientists and engineers who wish to pursue a career in space here.
Giovanna Giardino – ESA scientist for Webb's NIRSpec instrument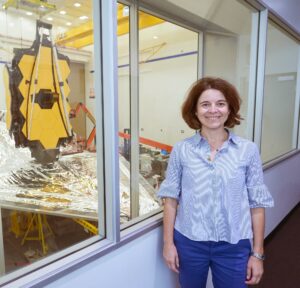 After her graduation, Giovanna was awarded a Human Capital Mobility grant of the European Commission to study at the University of Manchester where she gained a Masters in Radio Astronomy followed by a PhD in Astrophysics from the University of Milano. She joined the European Space Agency in 1999 as a Research Fellow in the Science Directorate working on modelling of the galactic emission in the context of the cosmological studies to be carried out by the Planck satellite. She remained at the ESTEC center and continued to support the development of the Planck mission till its launch in 2009.
Since 2010 she has been working on the NIRSpec instrument, the European Spectrograph on board of the James Webb Space Telescope (JWST), launched on 25 December 2021.