For Science Week 2021, ESERO Ireland and MTU Blackrock Castle Observatory, will bring you an online Space Career Roadshow in conjunction with Science Foundation Ireland, and space industry partners.  This Space Careers event  will provide students with an excellent opportunity to engage with space industry professionals so that they can get a taste of the exciting opportunities that a STEM career in the space sector has to offer.
Our roadshows showcase the incredible diversity of careers that are available in the space industry. Astronauts, scientists, engineers, artists, and countless other professionals will show you what their dream job entails, and the path you can take to follow in their footsteps.
When: November 18th 2021
Where: Online
Audience – Transition Year, 5th and 6th year students. Second level teachers
Admission – Free. The keynote speeches will be available to stream directly from YouTube. Join* in digital breakout rooms where teachers/students can interact directly with speakers in Q&A sessions! *Digital breakout room positions are offered subject to availability.
Speakers: 
Dr Aidan Cowley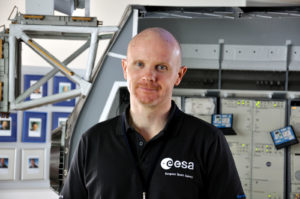 European Space Agency Science Officer (European Astronaut Centre – Cologne)
Aidan works at the European Space Agency, stationed in the European Astronaut Centre (EAC) in Cologne. He was a research fellow initially from 2014 to 2017, and then became an ESA Science Advisor in 2017.
He trained as a Material Scientist, and did a lot of research in the area of energy systems. Before that, he earned a Masters in Electronic Systems and a bachelors in Computer Applications. He has a very broad range of skills, as a scientist and also as an IT guy. Skills like scientific writing and programming are tools he uses nearly daily.
For more information about Aidan have a look at his profile on ESERO's Career Profiles Page
Dr Laura Hughes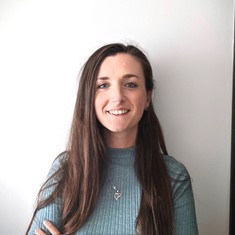 Research Fellow a the European Space Agency
Laura is a solar physicist who currently works as a research fellow at the European Space Agency (ESA) at ESTEC in the Netherlands. She received an undergraduate degree in theoretical physics from Trinity College Dublin, Ireland, and soon after joined the astrophysics research group at Trinity to complete her PhD in solar flare physics. Following her PhD she joined NASA Goddard Space Flight Center as a postdoctoral fellow for two years where she continued to work on solar flares with a focus on X-ray observations.  Her research makes use of both space- and ground-based observations of the Sun in multiple wavelengths to help build a better understanding of the physical processes that underpin solar flare energy release. I n particular she is involved with ESA's Solar Orbiter mission which launched in 2020 which is now providing new and unique observations of the Sun.
Dr Laurence O'Rourke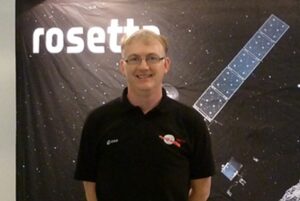 ESA Mission Scientist & Engineer
Dr. Laurence O'Rourke is from Mullingar and has being working in the European Space Agency since 1996, located at 3 of its establishments (ESTEC, ESOC and currently ESAC in Madrid) as an Engineer and a Scientist. He has a Physics & Maths double honours degree from Maynooth University, an MEngSc from University College Cork and a PhD in Astrophysics from Complutense University of Madrid.  At ESA he has worked on 6 different satellite missions  : Teamsat, Envisat, Integral, Herschel, Rosetta and PLATO.  On the Rosetta mission he worked in variety of roles – he was part of the flight control team when it launched, he was one of two Science Operations Managers during the comet orbiting phase and he was the ESA Philae Lander System Engineer where he helped prepare its landing and indeed led the team that located Philae on the comet surface in 2016. He is currently working on the PLATO Exoplanet searching mission as Science Operations Coordinator & Senior System Engineer.
He has published numerous science articles on comets and asteroids including two in Nature, the most recent published in October 2020 covering the discovery that the 4 billion year old ice on a comet is super soft, and the other in 2014 with the first confirmed detection of water in the asteroid belt, namely on Dwarf Planet (1) Ceres. Based upon the 2014 paper he was awarded the "O'Rourke" asteroid by the IAU. He has also received from the International Academy of Astronautics (IAA) the Laurels for Team Achievement Award for his work on the Philae lander. He has given numerous public presentations around the world over the years including 2 TEDx talks.
Find out more about Laurence at our ESERO space profile page
Dr Niamh Shaw – MC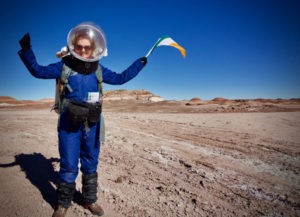 Niamh is a performer, writer & communicator with 2 degrees in engineering & a PhD in science. Passionate about igniting peoples curiosity, she explores crossovers in STEM, art & communication to share the human story of science.
Niamh has set herself a mission to get to space as an artist and citizen. She has created 3 theatre shows, 3 multimedia installations, hit a zero gravity flight, witnessed live launches & landings of astronaut crews, completed over 20 EVA hrs as analogue astronaut at simulated Mars missions, studied & lectured at ISU's Space Studies Programme, created her first RTÉ radio series 'Curious Humans'. She has spoken at events including WIRED Live UK, Space Rocks (ESA), NASA Johnson Space Centre, Inspirefest, New Scientist (UK), at academic & space-related conferences, schools, career events & is a regular contributor to BBC's Sky at Night magazine since 2016. Niamh is also a former Artist in Residence for MTU Blackrock Castle Observatory.