Throughout the year, ESERO Ireland and Space Week coordinators – MTU Blackrock Castle Observatory, run a series of Space Career Roadshows in conjunction with Science Foundation Ireland, and third-level partners. These roadshows provide TY, 5th year and 6th year students with an excellent opportunity to engage with space industry professionals so that they can get a taste of the exciting opportunities that a STEM career in Space has to offer.
The Space Week Roadshow takes place on Tuesday October 11th and the theme will be Surviving Space. Our panel of experts have backgrounds in tackling the challenges space presents to humans, both from a physiological and logistical perspective. Our emcee Dr Niamh Shaw has even undertaken some analogue space missions here on Earth that test our readiness to live in harsher environments such as Mars!
This event is free to join but booking is essential. You are welcome to bring multiple classes, however in the interest of student safety we require that a minimum of one teacher be in attendance for every 30 students. We encourage you to bring more teachers should your school policy require it and will happily accommodate as many teachers as you require.
Speakers:
Dr Niamh Shaw – Emcee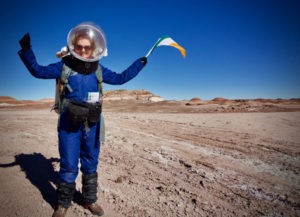 Niamh is a performer, writer & communicator with 2 degrees in engineering & a PhD in science. Passionate about igniting peoples curiosity, she explores crossovers in STEM, art & communication to share the human story of science.
Niamh has set herself a mission to get to space as an artist and citizen. She has created 3 theatre shows, 3 multimedia installations, hit a zero gravity flight, witnessed live launches & landings of astronaut crews, completed over 20 EVA hrs as analogue astronaut at simulated Mars missions, studied & lectured at ISU's Space Studies Programme, created her first RTÉ radio series 'Curious Humans'. She has spoken at events including WIRED Live UK, Space Rocks (ESA), NASA Johnson Space Centre, Inspirefest, New Scientist (UK), at academic & space-related conferences, schools, career events & is a regular contributor to BBC's Sky at Night magazine since 2016. Niamh is also a former Artist in Residence for MTU Blackrock Castle Observatory.
Lisa McNamee – Space Medicine Ireland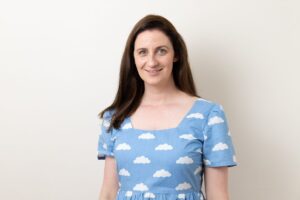 Captain Dr. Lisa McNamee is currently serving as a medical officer with the Irish Defence Forces. She is the co-founder of Space Medicine Ireland, an outreach and research group in the field of Space Medicine. She has recently been awarded the Anita Mantri PhD prize for leadership and mentorship in aerospace medicine. In 2022, she has had research accepted to the Aerospace Medicine Association's Annual Scientific Meeting, the International Astronautical Congress and the International Conference of Aerospace Medicine. She is an advocate for women in medicine through her mentorship of AccessMed Ireland. She holds degrees from Trinity College Dublin, Royal College of Surgeons in Ireland and University College Dublin. She has completed Aerospace Medicine training through the European Space Agency's Space Physician training course, the University of Texas Medical branch's Principles of Aerospace Medicine course and King's College London's Introduction to Aerospace Medicine course. 
Cian O Regan – Human factors PhD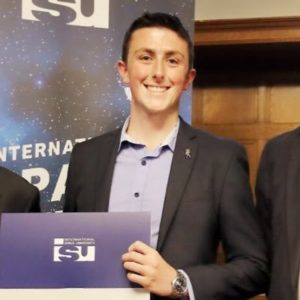 Cian O'Regan is a human factors PhD student at Munster Technological University in his native Cork. His research focuses on the impact of head worn displays on drone piloting performance in anticipation of astronauts using unmanned aerial systems on future missions to the Moon and Mars. Prior to pursuing a career in space research, Cian graduated with a BSc in Business Information Systems from University College Cork. He is also an alumnus of the International Space University having participated in the Space Studies Program in 2018. In his spare time enjoys photography, golf, and travel.
Dr Kiera Ward – Space Physiology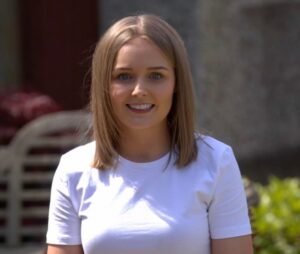 Kiera is a sport scientist, exercise physiologist and active health researcher nationally and internationally. Kiera's research interests include space physiology, metabolic physiology, sedentary behaviour and ageing. Kiera is passionate about bringing the evidence to practice, to prevent and manage the physiological adaptations associated with the physical inactivity and sedentary behaviour, which are similar, albeit less dramatic, than the physiological adaptations observed following spaceflight. Kiera was awarded a research contract with the European Space Agency to complete her PhD investigating the impact of 60 days HDT bed rest on the physical and metabolic characteristics of young healthy males. Kiera has also lectured numerous physiology modules in undergraduate courses in the Technological University of the Shannon.