ESERO Ireland, CIT Blackrock Castle Observatory and Junior Cycle for Teachers present the third edition of the ESERO Ireland Space Education Conference. This event for teachers which ran in 2018 and 2019 and is now coming to you as a livestream.
Running as part of Space Week with the support of Science Foundation Ireland, this conference aims to support the teaching and learning of the Junior Cycle Earth and Space strand with inspiring and practical approaches to teaching science.
The focus will be on Satellites Improve Life and ESA's Climate Detectives Project which promotes student-centred inquiry about climate and environmental issues.  Climate Detectives challenges students to identify a climate problem by observing their local environment and investigate it as 'Climate Detectives'
For a taste of past conferences, check out the video below
The half-day conference will be a mix of online talks and interaction with our invited experts in the fields of space research and space education.
Plenary Speakers:
Fatima Pinto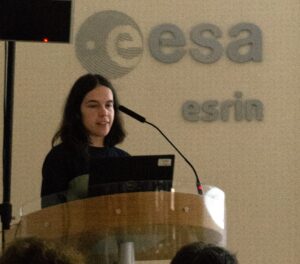 Fatima Pinto is a Science Didactics Expert at the European Space Agency's Education Office. She graduated in Chemistry with a specialisation in teaching and also obtained a masters degree in Analytical Chemistry. She is coordinating the development of Earth Observation related classroom activities and school projects that focus in the use of real satellite data from different ESA Earth Observation missions.
Dr Niall Smith
Niall is Head of Research at CIT and the founder/director of CIT Blackrock Castle Observatory in Cork. He studied astrophysics at University College Dublin and graduated with his PhD in 1990. In 2017, Niall was the host Director for the International Space University Space Studies Programme which is the largest conference programme ever to come to Cork, lasting a total of 9 weeks and involving over 320 global space experts. Niall's research focuses on space topics including ultra-high precision photometry and the uses of small satellites in low earth orbit for a wide range of functions from high resolution imaging to space cybersecurity to rural broadband. He was the Higher Education representative on the National Steering Group for the Irish Government's recently published Space Strategy for Enterprise and considers Space 4.0 to be a significant opportunity for the Irish business community. 
Programme: UPDATED TIMELINE – the conference is still the same duration, we've just tweaked the timings!
10am Welcome and Introduction to the Conference
10.15am First Plenary Presentation: Earth Observation from Space. Fatima Pinto
10.50am First Workshop Session

11.40am Break

11.50am Second Plenary Presentation: Satellites Improve Life. Niall Smith
12.25pm Second Workshop Session
1.15pm Other ESA, ESERO resources to support Satellites and Earth Observation Learning
1.25pm Evaluation
1.30pm Close
Three workshops will be offered, participants will be able to attend two of them.
Workshop 1 – Tutorial on EO Browser:  How to use EO browser in the classroom (with Fatima Pinto)
Workshop 2 – European Space Agency Classroom Resource "Sea Ice from Space" for Junior Cycle Science (with Donal O Laoire).
Workshop 3 – Remote Learning with Remote Sensing – Incorporating Satellite Data into Junior Cycle Science (with Frances McCarthy)
When: September 26th 2020 10 am – 1.30 pm
Where: Online
Cost: FREE!
This event is now fully booked. We are operating a waiting list. Submit your details below and we will contact you should more spaces become available.