ESERO Ireland, CIT Blackrock Castle Observatory, and Junior Cycle for Teachers present the second edition of the ESERO Ireland conference 'Teaching Earth and Space in the Junior Cycle.' This one day event for teachers ran for the first time in 2018.
Running as part of Space Week with the support of Science Foundation Ireland, this conference aims to continue to support teachers with inspiring and practical approaches to embracing the Earth and Space strand of the Junior Cycle.
UPDATE SEPTEMBER 2019: We're delighted to announce our speakers: Astronomer and Science Communicator Pedro Russo of Leiden University and ESA Education Office's Rebecca Barnes.
Pedro Russo is University Professor in Astronomy & Society at Leiden University, the Netherlands, where he leads the Astronomy&Society Group. Dr. Russo was the global coordinator for the United Nation's International Year of Astronomy 2009. Pedro obtained his University degree in applied mathematics, physics and astronomy from the University of Porto, Portugal. Pedro was a research fellow at the Max Plank Institute for Solar System Research in Germany. Pedro is involved with several international organisations, like the International Astronomical Union, European Astronomical Society, Europlanet (European Planetology Network), the International Astronautical Federation. His work has received several awards, such as Seeds Special Award 2009, Scientix Best Educational Resource in 2015 and 2016, Most Innovative Educational Activities in 2017 and 2018 by HundrED and 2018 Leiden University's K.J. Cath Prize.
He suggests the following websites, full of educational supports for teachers:
www.unawe.org
www.iau.org/astroedu
www.space-awareness.org
www.space-eu.org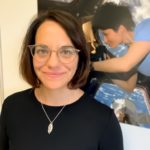 Rebecca Barnes is an ESERO Project Officer in the European Space Agency (ESA) Education Office. She has a degree in physics with astrophysics from the University of Leicester, UK, and previously worked as the education officer for ESA's Science Directorate as well as in the education and space communications departments of the UK's National Space Centre. The ESA Education Office is responsible for the Agency's education programme that brings together young people, aged 4-28 years old from many different nations, via diverse activities designed specifically for different age groups. For school students and their teachers, ESA Education brings space directly into schools as a context through teacher training, classroom activities, and school projects and challenges. Rebecca will explore the many ways in which STEM curricula subjects can be covered by the versatile topic of space, linking to space examples and missions, and how it can spark creativity, inspiration, and aspiration in education. Her talk is titled "Space for Education; ESA and Education Resources for your Classroom"
There will be two sets of four parallel workshop sessions. Workshop booking will open on 28 September to all teachers who have registered for the day. Workshops include:
'Sharing ideas for learning experiences for engagement with Earth and Space' with the Junior Cycle for Teachers Science Team,
ExoWorlds in Focus with Blackrock Castle Observatory,
Universe 102 with CIT's Niall Smith
Engaging with I-LOFAR from I-LOFAR.
Participants are welcome to attend a reception and open night at CIT Blackrock Castle Observatory on the evening of Friday October 11, 2019. Pedro will speak at the Open Night, where he will be joined by Chasseurs de Nuits:  "An exhibition for the visually impaired… and for others! Constellations at your fingertips"
Participants are welcome to attend a reception and open night at CIT Blackrock Castle Observatory on the evening of Friday October 11, 2019.